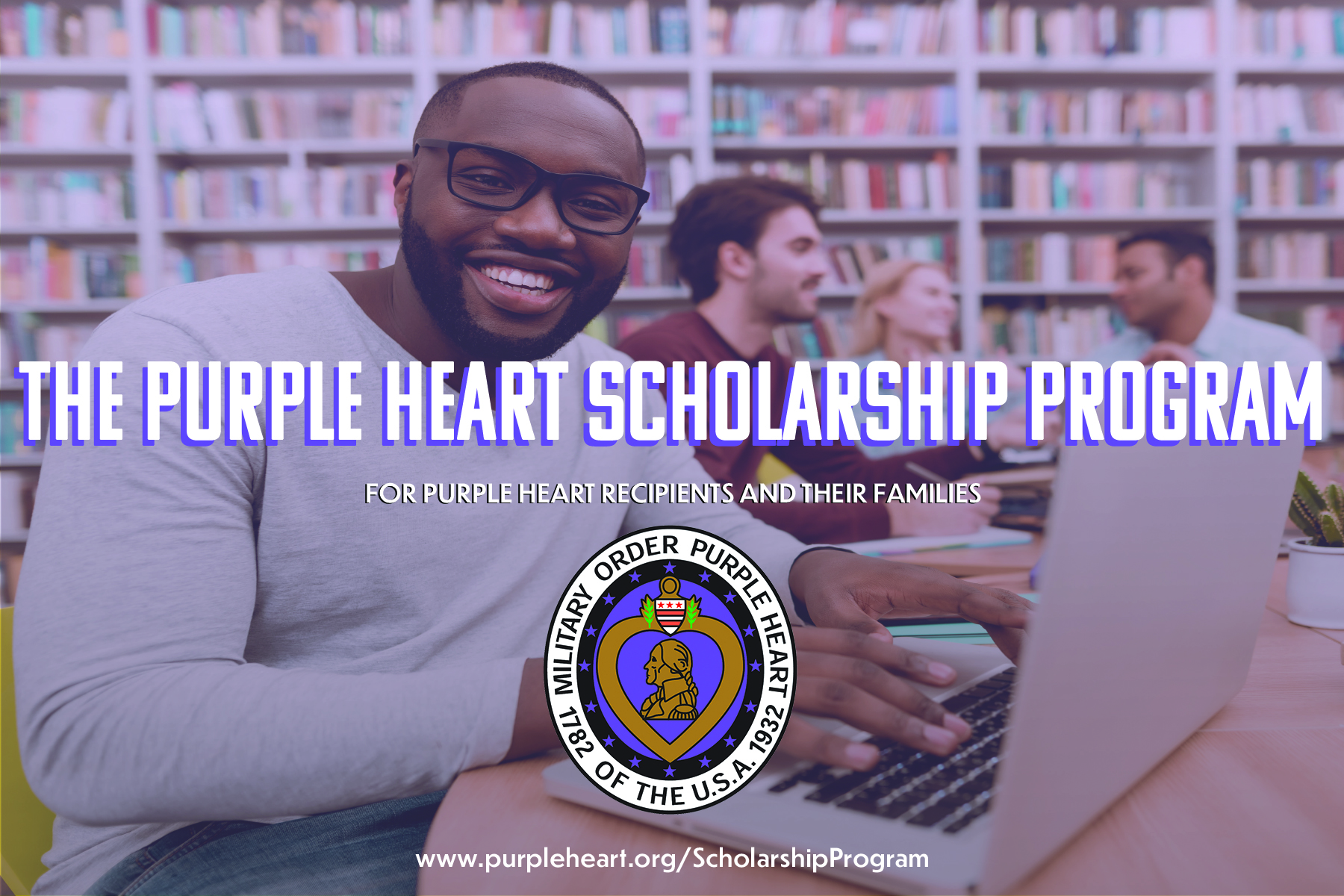 Previous years winners:
2023 winners.
2022 winners
***Application submissions are open from April 1st to June 30th 2024***
The Purple Heart Scholarship Program is a competitive program that awards scholarships to Purple Heart recipients and their spouses, children, and grandchildren each year. At least one applicant with military service will be awarded the Navy SEAL LT Michael Murphy Memorial Award.
The Purple Heart Scholarship Committee will evaluate all applications that are timely received and meet the eligibility and application requirements described below. All aspects of the application (academic achievement, extracurricular activities, community and military service, work experience, letters of recommendation, and essay) are considered and evaluated by the Purple Heart Scholarship Committee. The Purple Heart Scholarship Committee shall make all decisions regarding the eligibility for a Scholarship and the award of a Scholarship and, all decisions by the Purple Heart Scholarship Committee are final.
Not every applicant will receive a scholarship. This is not a full tuition scholarship. The amount of the scholarship may vary each year subject to funding levels. Purple Heart Scholarship checks are required to be endorsed by both the student and the school. The college or university, therefore, may exercise some control over how the funds are utilized and this can impact the level of financial benefit realized by the student.
ELIGIBILITY
To be eligible to apply for a Purple Heart Scholarship, applicants need to be a member of one of the following categories:
A Purple Heart recipient who is a Member of the MOPH, or
The spouse of a Purple Heart recipient who is a member of MOPH, or
The direct lineal descendent (child, step-child, adopted child, grandchild, step-grandchild, or great grandchild) of a Purple Heart recipient who is a Member of MOPH, or
The spouse, widow/widower, or direct lineal descendent as defined above of a service member killed-in-action or who died of wounds. If the Purple Heart recipient is listed as killed-in-action or died of wounds, supporting documentation and evidence must be included with the application.
A Purple Heart recipient who is not a member of the MOPH can become a member by applying online through the MOPH website: www.PurpleHeart.org. To be eligible to apply for the scholarship, the Purple Heart recipient must be a current member, a member at the time of his or her death, or documented as killed-in-action or has having died of wounds. If you do not know whether your lineal descendent was a member of MOPH before his or her passing, please contact MOPH Headquarters for assistance at (888) 668-1656 or (703) 642-5360 and ask for MOPH Membership.
A MOPH Associate membership or membership in the MOPH Auxiliary does not by itself convey scholarship eligibility. It is highly recommended that non-Purple Heart recipients become either Associate members or members of the Auxiliary, and such membership does convey additional credit in the application process.
In order to be eligible to receive a Purple Heart MOPH Scholarship, applicants must meet the following three requirements:
A graduate or upcoming graduate (current senior) of a high school or GED program, and
Accepted by or enrolled as a FULL-TIME* student at an accredited U.S. college, university, or trade school at the time the scholarship is awarded, and
Able to demonstrate the capacity for advanced academic achievement or technical proficiency as demonstrated by maintaining at least a 2.75 cumulative Grade Point Average (GPA) based on an un-weighted 4.0 grading system.
*A full-time student means carrying 12 or more credit hours per semester, or 18-quarter credit hours, or as determined by the school.
An applicant may receive a maximum of two scholarships awarded in non-consecutive years. Scholarship funds can be used for tuition, books, incidental fees, room and board, and other direct costs associated with higher education. Purple Heart scholarship funds cannot be used for transportation expenses, summer school, to pay pre-existing educational loans, or to pay for a special program/ research project.
The scholarship submission for the 2024 year opens April 1st.

Contact Information
Tracey Brown-Greene
National Junior Vice Commander
Phone: (240) 482-5500
Email: juniorvice@purpleheart.org